Professor John Somauroo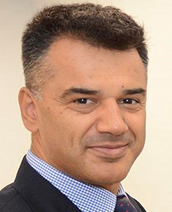 It is with great sadness we report the death of Professor John Somauroo on 14th May 2020.
John Somauroo was a keen sportsman from his school days at King's College Taunton. After medical school in Nottingham he undertook junior doctor posts in Plymouth and Leicester. His cardiology training was on the Mersey rotation, and while training he published on cardiac screening in young professional footballers. It was from here that his interest and love for sports cardiology grew.
He was appointed as consultant cardiologist at the Countess of Chester Hospital in 2000 and was a much liked and respected colleague. His sports cardiology work saw him appointed as professor of sports and exercise cardiology at the Research Institute for Sport and Exercise Sciences (RISES) at Liverpool John Moores University in 2016. His sports cardiology clinic at Liverpool Heart and Chest Hospital attracted athletes from far and wide, and he combined this with work in the cardiomyopathy clinic.
John was a member of the English Football Association's cardiac screening panel and cardiologist for several professional football clubs, including the one closest to his heart, Liverpool FC. He was a national and international expert in sports cardiology and led on numerous mass athletic screening programmes in football, rugby, and cycling. He was an active supporter of local and national charities.
He had enormous energy and enthusiasm and inspired everyone around him through decades of excellent clinical care. John died peacefully after a diagnosis of cancer, surrounded by his family. He leaves his wife, Francesca; and their four children.
Consultant cardiologist and professor in sports and exercise cardiology (b 1965; q Nottingham 1989; FRCP, FFSEM), died from cancer on 14 May 2020
Following a generous response to John's memorial fund a memorial bench will be sited in the Life Garden at the Countess of Chester Hospital close to the main entrance. The remainder of the donations are to go towards a research fund in John's name at Liverpool John Moores University.