Our annual programme covers a wide variety of academic and social events as shown below: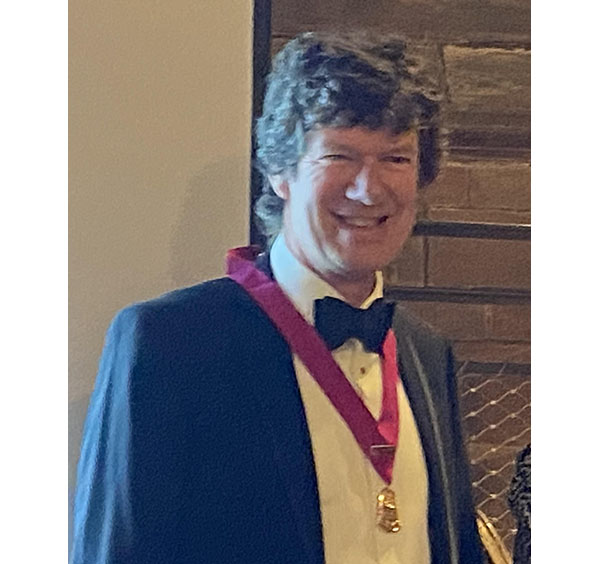 Wednesday 16th March, 2022
Academic Evening. Professor Paul Hunter and a talk entitled: The COVID-19 pandemic: what we got right and what we got wrong.

Professor Paul Hunter is Professor in Medicine at the Norwich Medical School, University of East Anglia, UK. After qualifying in Medicine from Manchester University he specialised in Medical Microbiology and Virology. Prior to his current appointment he was Director of the Chester Public Health Laboratory and Consultant Medical Microbiologist at the Countess of Chester Hospital from 1988 until his current appointment in 2001. Until his retirement from clinical practice he was also a Consultant in clinical virology at the Norfolk and Norwich University Hospital. His primary interests are in emerging infectious diseases especially those transmitted through food, water or the environment. In recent years he has published on Norovirus, dengue fever, Ebola, Zika virus, the evolutionary genetics of cryptosporidium and the impact of inadequate access to safe water and sanitation on health. During the current crisis, he is a member of the WHO Health Emergencies Program Experts Advisory Panel for Infection Prevention and Control (IPC) Preparedness, Readiness and Response to COVID-19. He has published several papers on COVID-19 especially around the impact of non-pharmaceutical interventions, the value of face coverings and risk factors for COVID transmission in care homes. His current research activity centres around how the pandemic will end and how we can return to normality. He is one of the most sought-after COVID-19 media experts with over 50,000 appearances or mentions in the on-line, print and broadcast media world-wide.
Synopsis
As we now seem to be getting over the worst of the COVID-19 pandemic, it is a time when we should start to look back over the UK's response to this threat, and to ask ourselves what we did right and what we did wrong, both as a country, and as a profession. 
There are many things of in our response, that the UK can be really proud. Some of the world's best science has been done in this country, examples of which include the REACT study, which provided evidence on which therapeutic interventions actually worked, and which had no value; the world's leading gene sequencing consortium; and the high quality of our observational epidemiology, especially the ONS COVID-19 infection survey, and the analyses from Public Health England (now UKHSA) on new variants. But there have also been failures, the most dreadful of which was our inability, in the early months, to adequately protect our health care workers and our elderly citizens living in care homes. 
In my presentation I take us through the timeline of the epidemic in the UK, and highlight some of those areas where I think we got it right, and where I think we got it wrong.
3 February, 2022
Presidential Evening: The new president of the society Dr Shirley Bowles gave her Presidential address in the awe inspiring setting of the old 13th century monk's dining hall at Chester Cathedral. After receiving her chain of office from the outgoing president Dr Chris Lewis she gave a captivating address entitled "My life in medicine: 40 years of blood, sweat, tears, urine and CSF…"
This was followed by an excellent black tie dinner.
26 November, 2021
Christmas Ball at Rowton Hall
3 November, 2021
The Red Arrows….a pilot's view". Talk given by Squadron Leader Gordon Howes
7 December, 2019
We had a great time at the Christmas Ball at Rowton Hall.
13 November, 2019
Academic meeting – Chasing Shadows using Ockham's Razor
Dr John Curtis, Consultant Radiologist, Aintree
18 September, 2019
Presidents' Evening
Dr Chris Lewis started his year as President for 2019/20 with a black tie dinner and talk. Thanks to Dr Martin Sedgwick our retiring President.
19 June, 2019
Academic Evening
Everest in Winter – A fascinating talk from Professor Rod Stables, Consultant Cardiologist, Liverpool.
15 June, 2019
Summer Ball with DOCTOR'S MESS
A great evening with the COCH Medical Summer Ball at The Macdonald Craxton Wood Hotel & Spa.
23 May, 2019
President's Prize Evening
Clinical case presentations by Primary and Secondary care trainees. Dr Martin Sedgwick presents the first prize to Dr Jeeu Teck Sze
13 March, 2019
Academic Evening
The History of Medicine in Chester.
Prof. T Wardle – Consultant Gastroenterologist
24 January, 2019
Academic Evening
From Chester to Cox's Bazaar.
Nick Laundry – Consultant in Emergency Medicine
1 December, 2018
Winter Ball at Rowton Hall
Another great Winter Ball. The venue and food were excellent and we wowed with an amazing magician! Thanks to Zoe Jones, Jackie Elder and everyone involved in the organisation.
24 October, 2018
The robots are coming – Mr Paul Modi
Consultant Cardiac Surgeon,
Liverpool Heart and Chest Hospital
Mr Paul Modi is a consultant cardiac surgeon at Liverpool Heart and Chest Hospital. He has the largest practice of minimally invasive mitral valve surgery in the UL and is the only surgeon performing Da Vinci robotic mitral valve surgery. He was trained in Cardiothoracic Surgery in the UK, US, Germany, Belgium and The Netherlands. He is a national and international trainer in many of these techniques.
12 September, 2018
Presidents Evening – Dr Martin Sedgwick gave his opening address – "Medical Mutts" and plans for the year.
26 June 2018
Robin Davies' last event as President.
Mr Mick Crumplin, Retired Consultant Surgeon , Wrexham Maelor Hospital.
Losing Sight of the Glory-Six Centuries of Combat Surgery.
A fascinating and informative look at how our wounded soldiers have been treated covering conflicts from 1415 – 2015.
23 May, 2018
Presidents Prize Evening
Clinical Case Presentations by primary and secondary care trainees. Prizes awarded for best presentations from primary care (Austen Elliott prize) and secondary care.
There were 8 great presentations from:
Jack Hannah – Persistent Perplexing Pyrexia: A case study in post-immunotherapy complications.
Oliver Sergeant – Gonorrhoea the superbug that can't be stopped!
Elen Hughes – Acute presentation of unsteadiness
Charmaine Matthews – Intestinal Behcet disease
Sophie Lace – Elective delivery for metal growth concerns
Charlotte Thorne – Liposarcoma
Scott Williams – A case of bilateral hip fractures in a 24 year old female
Sam Hoggard – A rare cause of obstructive jaundice and another missed opportunity.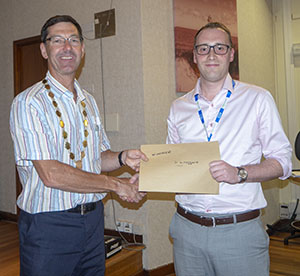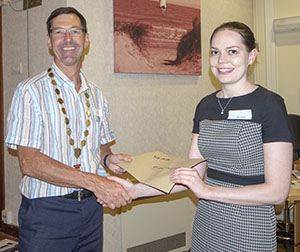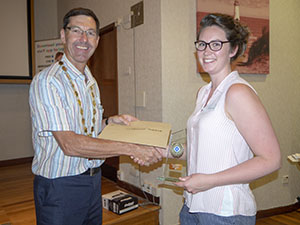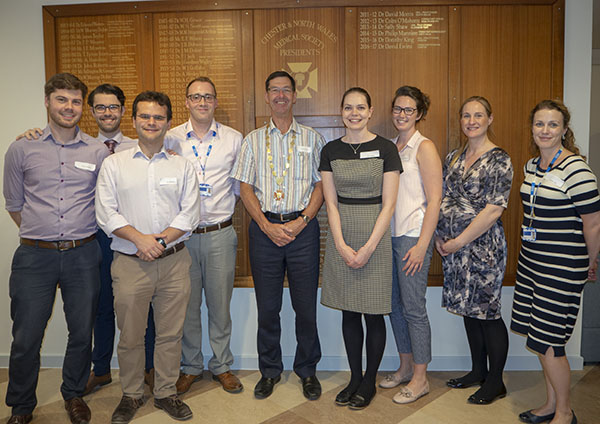 15 March, 2018
Dr Alison Carter, General Dental Practitioner, Bangor on Dee.
Pressure cookers and camping gas- delivering sustainable dentistry in rural Tanzania.

Dr Alison Carter spoke about her charity work in Tanzania. She had been to Tanzania as a volunteer on several occasions to deliver dental education to local health care practitioners. People die of dental sepsis in Africa. Practitioners are taught to extract teeth and once competent they are given the equipment to allow them to do this independently reducing both morbidity and mortality. She stressed the importance of charity work leaving a legacy. This was an extremely interesting and well delivered talk with an important message.
24 January, 2018
Mr Simon Roberts, Consultant Orthopaedic & Sports Injury Surgeon, Robert Jones and Agnes Hunt Orthopaedic Hospital.
20 years of sports injuries
I had a slightly unusual route into medicine having started a maths degree at Cambridge before sneaking across into the medical school thanks to the patronage of the rugby club's president. I then transferred to Oxford's clinical school before training in general Orthopaedics on Oswestry's programme, supplemented by travelling fellowships in sports injuries in Europe & the USA as well as a year in Australia. I have been a consultant in "Orthopaedic & Sports Injury Surgery" in Oswestry for nearly 20 years, since long before "Sport & Exercise Medicine" became a recognized medical specialty in its own right. I am now a Council member of the intercollegiate Faculty of Sport & Exercise Medicine, & the immediate past president of the British Orthopaedic Sports Trauma & Arthroscopy Association.
25 November, 2017
A fabulous end to the year with the Winter Ball at Craxton Wood. Excellent food, live music from the Blackjacks and Dr Ravi Jayaram Consultant Paediatrician & media star who delivered an entertaining after dinner speech.
Thanks to everyone for supporting the event and to the organisers, especially Zoe Jones and Dr Jackie Elder.
14 November, 2017
Professor John Ellershaw, Consultant in Palliative Care, Royal Liverpool Hospital and former Director of Marie Curie Hospice Liverpool delivered a very interesting and informative talk on When we know how to care for the dying well, why do so many people die badly?
Professor John Ellershaw spoke about the development of a palliative care ward within a large teaching hospital. This facility will allow expert focused palliative care to be delivered to those patients from around the hospital requiring the service. This will take the care of the dying off medical and surgical wards to allow them to continue to do their important routine and emergency work. The talk was well received and stimulated significant discussion.
13 September, 2017
Presidential Evening – Dr Robin Davies started his year with a talk "Dr Finlay to Bones McCoy" and a Black Tie dinner.
The talk centred around changes and developments in primary care throughout Robin's career with some thoughts about possible future developments. The importance of doctors continuing to talk to each other across the primary – secondary care divide in the best interest of patients was stressed. The medical society should have pride of place in facilitating this.
20 June, 2017
My experiences in Nepal – Neil Fergusson.
A fascinating Academic Evening with Neil who has been a Consultant Anaesthetist at the COCH for 29 years. Since formally retiring in 2014 he has been doing voluntary work in Nepal for the International Nepal Fellowship. Last year he competed in the Himalayan Rush Duathlon in Begnas Taal, Pokhora, Nepal.
His talk gave an insight into how volunteering can make a real difference and his experiences of the devastating earthquake were very enlightening showing how you can never tell what to expect.
17 May, 2017
President's Prize Evening
A very high standard of presentations, and difficult to pick a winner! Congratulations to all those who took part – they both presented superbly and answered questions in a very professional manner – giving us all faith in the next generation of doctors!
All the presenters with Dr David Ewins, President 2016-17.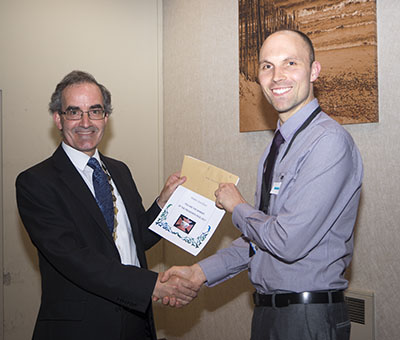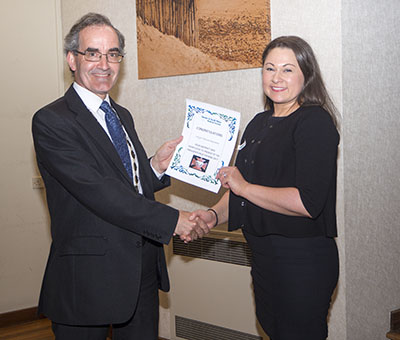 15 March, 2017
Academic evening
Ebola – Challenges on the Front Line
David Counsell, Consultant Anaesthetist, Wrexham Maelor Hospital

David Counsell spent several months in Sierra Leone helping to fight the 2013-16 Ebola outbreak. He gave a very interesting story highlighting his personal experiences battling the recent Ebola outbreak.
25 January, 2017
Academic evening
The Developmental Origins of Adult Disease.
Keith Godfrey

Professor of Epidemiology & Human Development. MRC Lifecourse Epidemiology Unit, University of Southampton.

Keith works at the MRC Environmental Epidemiology Unit in Southampton and is Director of the Centre for Developmental Origins of Health & Disease. He gave an excellent discourse on the developmental origins of adult disease that stimulated much debate and questioning.
Winter Ball 2016
A relaxed evening of great company, good food and a fun casino at the Llyndir Hall Hotel in Rossett.

25 October, 2016

Medieval Cheshire pathology; observations from the Poulton project.
Kevin Cootes , Archaeologist and Dr Constantine Eliopoulos, Palaeopathologist, John Moores University, Liverpool.

Kevin Cootes gave an excellent and charismatic talk about the important archaeological site on our doorstep in Poulton with input from Constantine Eliopoulos detailing pathological data from the historical remains. Further details of the Poulton Project are available on their website and Facebook page .
14 September, 2016
Dr David Ewins started his year as President with his Address –
As You Like It; the Seven Ages of a Physician.
David gave an interesting and stimulating talk guiding us through his seven ages as a physician from student to senior consultant illustrating it with the parallel advances in diabetes care he experienced at each of these stages.
This was preceded by a presentation to last year's President, Dr Dorothy King and followed by a superb black tie dinner.
22 June, 2016
Talk – Physician Assisted Suicide
The Very Reverend Professor Gordon McPhate, Dean of Chester Cathedral.
Gordon trained as a priest in Cambridge, and holds degrees in Theology from both Cambridge and Edinburgh, specialising in the theology of Karl Barth and Medical Ethics. He was ordained and served his curacy in Southwark Diocese, where he later became Minor Canon of the Cathedral. Since his appointment as Dean of Chester in 2002, he has become Professor of Theology and Medicine at the University of Chester where he teaches postgraduate courses in Science and Religion, and Bioethics. He is a member of the Society of Ordained Scientists.
12 May, 2016
President's Prize Evening A chance for all doctors in training in both Primary and Secondary Care to improve their portfolios and win a prize.
A great evening with fascinating presentations. All 7 presenters, with their papers, are listed below with the photo showing them with Dr Dorothy King President of the CNWMS. From left to right:

'The "World" According to K: is there a connection between adult ADHD and Bipolar Affective Disorder', Dr Alexander Kidd, won the Austen Elliott trophy
'Iron Deficiency Anaemia', Dr James Morgan
'Asherman's and Accreta; An unusual case of Secondary Post-Partum Haemorrhage in Delhi', John Millwood Hargrave
Dr Dorothy King, President, CNWMS
'Post amputation pain', Dr Harriet Reader
'Lemierre's Syndrome', Dr Laura Roberts. Winner
'Panhypopituitarism', Dr Nick Wreglesworth. Came 2nd
'Sweet Syndrome', Mirna Attalla. Came 3rd

11 February, 2016
Talk by Dr Fergus Jepson, Consultant in Amputee Rehabilitation Medicine at the Specialist Mobility Rehabilitation Centre in Preston.
'Complex Amputee Rehabilitation, The Present and the Future'
He was accompanied by Greg, an amputee & army veteran who served in Afghanistan and now works as a PT Instructor at the centre.
Several people who attended Fergus Jepson's fascinating talk expressed an interest in taking up his offer of visiting the Rehabilitation Centre in Preston. To arrange this please send an e-mail to him, copying in his secretary Marie Gornall, using the following e-mail addresses: Fergus.Jepson@lthtr.nhs.net and Marie.Gornall@lthtr.nhs.net.
27 November, 2015
What does an airport chaplain actually do?
A very interesting talk about what goes on behind the scenes at Manchester Airport from the Reverend George Lane. The talk covered George's work at Manchester Airport including the work in combatting human trafficking.
4 November, 2015
Winter Ball at the Crowne Plaza, Chester
Another enjoyable Winter Ball with excellent music from the Ego Kings
30 September, 2015
Wine tasting, an informative and enjoyable evening with Corks Out sampling 6 wines, the competition was won by the team below!

17 September
New President for 2015/16 Dr Dorothy King gave an interesting and information talk at the start of her year as President followed by dinner in the Education Centre.
2014/15
Read Dr Phil Mannion's report on his year as President.
12.5.15
President's Prize Evening From 10 excellent submissions we were treated to 8 informative and interesting case studies with some excellent presentation slides. The winner was Dr Sumra Sarvan, with his talk on Osler's Advice, closely followed by Dr James White with A serious cause of abdominal pain and then Dr Joanne Byers on Myelofibrosis. Dr Sarvan was also awarded the best General Practice presentation in memory of the late Dr. Austen Elliott. The other presenters were: Dr Nuru Fadzillah – Management of blood-borne virus infected health care professional Dr Claire Percival – An unusual case of a sore throat Dr Victoria Reid – A typical haemolytic uraemic syndrome Dr Evelyn Rogerson – Transgender male with a sudden onset occipital headache Dr Sophie Winters – A rash so rare they named it twice.
11.03.15
Three men in a …………………. taxi! How far would you want to travel in a 20 year old taxi? An entertaining account of the charity fund raising event that David Campbell, Chris Samuels and Philip Mannion completed last summer. They competed in the Crumball Rally which challenges participants to buy a car for under £200 and drive in 3 days to Venice! Raising over £10,000 for a Romanian Orphanage they got there in one piece and managed to sell the car before jetting back to the UK!
28.01.15
Academic Evening Simon Mann, Development Director of Chester Zoo He initially studied as an architect, completed his degree in construction management and in 1997 moved into project management. He has worked on many high level projects including the BBC Broadcasting house development. He joined Chester Zoo in 2008 and has delivered the scheme that opened the entrance zone of the zoo and now is driving forward the new 'islands' project. A very interesting evening covering the new Islands project and a peak behind the scenes of one of the world's most successful zoos.
23.01.15
Chester and North Wales Medical Society Winter Ball Another great social event!
17.9.14

President's Evening

The new President, Dr Philip Mannion, Consultant Microbiologist, made his Presidential Address – 'Medicine without a Stethoscope' looking back at the advances in pathology since he started in early 1980's.
20.6.14
Summer social event An enjoyable Buffet Dinner and Barn Dance led by the authentic Ayrshire Ceilidh Band Ceilidh Sound had everyone up and dancing. The event was held at the Guildhall in Chester.
13.05.14
President's Prize Evening Clinical case studies were delivered very professionally by seven junior doctors. These seven were shortlisted from an original 20 submissions. The three judges were immensely impressed with the scope of the clinical content and the technical quality of the presentations, and they noted that the standards rise annually. All candidates kept to their time constraints ably assisted by President-Elect Dr. Mannion and his stop clock.

First prize was awarded to Dr. Kate Lyddon for 'A distracting ECG'
Second prize was awarded to Dr. Anna Randall for 'A paraneoplastic presentation'
Third prize was awarded to Dr. Katie Dodd for 'The woman who couldn't stand up'

The Society was delighted to be able to award a special extra prize this year for the best General Practice presentation in memory of the late Dr. Austen Elliott. This prize was awarded to Dr. Zoe Fitzgerald for 'Proof men don't look in the mirror' Dr. Paul Dennitts gave a short resume of Dr. Elliott's career emphasizing his particularly contribution to medical education locally. It was lovely that four members of Dr. Elliott's family were able to join us for the evening. The seven presenters were: Dr. Trevor Balling, Dr. Alex Colby, Dr.Katy Dodd, Dr. Zoe Fitzgerald, Dr. Jane Klcova, Dr. Kate Lyddon and Dr. Anna Randall
22.01.14
How to cycle across the USA and survive
Dr Patrick Milroy, retired GP, Frodsham
Wheels-4-Wheels – How to cycle across the USA and survive At the tender age of 65, Patrick cycled (pedal!) a mere 3,300 miles in 34 days from Los Angeles to Boston.
22.11.13
Winter Ball at The Grosvenor Hotel, Pulford.
Date
Subject
Speaker
Vote of thanks
7.11.13
The Future of Palliative Medicine
Dr Kate Granger
Mrs Linda DeCossart
The first academic evening was an address by Dr Kate Granger about the recent media debate and government review of the Care of the Dying pathway. Kate discussed the potential damage done to good, holistic care of the dying patient that this furore has and will cause. She described her own efforts to promote the benefits of a structured anticipatory pathway. The evening was made much more poignant by Kate describing her experience of her own cancer diagnosis and treatment, and very emotional when she outlined her plans for her own death , as she has recently had news of recurrence. Chester was very honoured to be the last venue Kate visited before her forthcoming chemotherapy .
17.09.13
Presidential Evening "Sanity and the Doctor"
Dr Sally Shaw, GP, Ellesmere Port
Colm O'Mahony
Colm O'Mahony, retiring President, thanked all who had supported him over the year before handing over the chain of office to the incoming President, Sally Shaw, who gave us an enjoyable and informative talk on what keeps her sane and enabled everyone to reflect on their work/life balance. This was followed by an excellent dinner.
21.06.13
Summer Ball at Rowton Hall, Hotel, Chester
The sun kindly shone and so the evening kicked off with reception drinks on the lawn for a capacity turnout of members and friends! President Colm was momentarily left speechless, not a common occurrence, by the canine response to his whistle for attention! The promised magical evening was assured by Will Blacklock, son of Neil and Rowan, with his expert card tricks at the tables which left everyone amazed! The hotel delivered an excellent meal followed by an opportunity for general chat and dancing.
9.05.13
President's Prize Evening
Tamerlan Babayev, Laura Goodfellow, Debbie Hunt, Tom Hinton, Kelly McNamee, Habib Rahman, Shahzad Shikoh, Jemy Thomas
Colm O'Mahony
A change this year from audit to clinical case presentations! From an impressive number of around two dozen initial submissions it proved challenging to whittle the number down to the eight which were perceived to be the best. As expected Janardhan Rao, our Academic Secretary, kept tabs on the presenters and ensured the audience were kept wide awake with his instructions to exercise at the halfway point! The judges, with some difficulty, ranked the presentations and awarded joint first prize to Tom Hinton, Kelly McNamee and Shahzad Shikoh for their cases on cerebral toxoplasmosis, dramatic complications of caesarean section and ethical dilemmas in Huntingdon's chorea, respectively.
12.03.13
"A Marine Medic in the Mountains"
Dr Alastair Miller, Consultant Physician in General Medicine and Infectious Diseases, Royal Liverpool University Hospital
Colm O'Mahony
What an impressive presentation! To get the feel for the climate in the mountains even the heating had been turned off in the lecture theatre! Alastair was true to his word and did indeed talk a lot about mountains and a little bit about medicine! He clearly had a baptism of fire in his first Himalayan expedition in his role as the medic as several colleagues developed altitude related illnesses and, sadly, one died following a serious fall. Later trips were less stressful medically but clearly extremely physically demanding. This was a fascinating talk from a real enthusiast with a great turnout of members and guests of the society who all enjoyed an excellent meal beforehand.
7.12.12
Christmas Ball, Inglewood Manor
Once more a great success! A capacity turnout enjoyed a warm reception with the log fire burning in the impressive entrance hall! The general consensus was that the food was excellent and all that hard work to get the menu choices in advance paid off as the meals were served promptly! Our president, Colm O'Mahony, kept us entertained after dinner in his own inimitable fashion! Mac Duo were on hand, ably assisted by Andy Logan and Chris Lewis, to keep us all moving after eating – but still allowed easy chat to catch up with friends and colleagues. And Mark Ireland-Jones did his usual excellent job with his camera! See the photos on the link above or on the Home Page.
15.11.12
"Is there a doctor on the boat, plane or train? Or 101 things not to do with a Foley catheter and coat hanger!"
Dr Nick Laundy, Consultant in A&E Medicine, COCH
Colm O'Mahony
After an excellent early Christmas Dinner (!) there was a full house for Nick's innovative presentation. His props included a (precarious!) Christmas tree built with coat hangers and a manikin with the Foley catheter draining the chest! He confessed to little personal experience of hearing the dreaded call for a doctor – unlike our President! Nick's presentation cleverly interspersed humour, supported by various video clips, along with reassuring information on the generally well equiped emergency medical equipment apparently provided on aircraft these days. However, evidence is required of a bona fide medical qualification before the crew will allow access to it! Nick also highlighted potentially useful information extracted from the IATA website to guide doctors when asked by patients for clearance to fly with full guidance at www.iata.org/medical-manual – see Section 6)
20.09.12
Presidential Evening "Sex in the City"
Dr Colm O'Mahony, Consultant GU Physician, Countess of Chester Hospital
David Morris
The evening was sadly overshadowed by the sudden death earlier in the week of Dr Niru Goenka, Consultant Endocrinologist. The difficult decision was made to continue with the event and a capacity turnout heard an eloquent tribute to Niru, following which everyone stood in silence in memory of an exceptional young colleague who will be sorely missed. David Morrris, retiring President, thanked all who had supported him over the year before handing over the chain of office to the incoming President, Colm O'Mahony. Colm, as expected, delivered a top notch address relating a series of entertaining events in his career to date, many of these a result of his extensive dealings with the media! An excellent dinner followed.
25.04.12
"President's Prize Evening"
Sarah Clifford, Mithun Murthy, Agnieszka Saudecka, Rob Schofield, Archana Senathirajah and Ai Wei Tang
David Morris
An impressive turnout of members and guests were entertained and educated by six individuals, ranging from medical student to Specialist Registrars, who had been shortlisted out of 15 high quality submissions. Our social secretary, Janardhan Rao, kept everthing running to schedule in his own inimitable and entertaining manner, as always! The judges job clearly gets harder every year but they ruled that second place went to Sarah Clifford, medical student, while the President's Prize for 2012 was awarded to Rob Schofield for his presentation "Emergency Medicine Hospital Attendances and Readmissions after Day Surgery: has anything changed in the New Decade?"
21.03.12
"So you want to be an Ironman? Medicine and Triathlon in the Olympic year"
Dr Andrew Davison, GP, Gatley, Cheshire
Isabelle Hughes
Andrew entertained us hugely by lifting the veil on the art, science, and sometimes obsession of triathlon eventing: a pastime which he introduced as "Swimming a lot, cycling a lot, and then running until you puke – and all because you enjoy it." His pictures varied from the pleasures of a sunny day in the calm local waters of Tatton Park, through cycling up what looked a sheer face of Helvelyn, to jumping like wetsuited lemmings from the back of a cargo ferry into a cold norwegian fjord. He told us of the Brownlee brothers, two young men who are definite hopefuls for medals for Britain in this summer's London Olympics.
22.02.12
"Memory and meaning: when it's not senile dementia"
Dr Rhys Davies, Consultant Neurologist, Walton Centre, Liverpool and Ysbyty Gwynedd, North Wales
Richard Worth
Members and guests were treated to a top class presentation, on a topic that is of increasing relevance for us all, from an enthusiastic colleague of international status. Rhys made extensive use of video clips to illustrate his points which made this complex subject more relevant and easier to understand for non-specialists. The good news was the progress being made on understanding fronto-temporal dementia, including at the molecular level, though the bad news was that effective therapeutic intervention seemingly remains years away.
11.01.12
"Medicine in East Africa"
Dr Mark Harney, GP in Connah's Quay
Stewart Leitch
Dr Mark Harney, one of our North Wales GPs, had his audience spellbound with both his words and his photos as he described the three week trip he made in 2010 to Maasailand in Kenya. This was with other doctors, dentists, physiotherapists etc from the UK, under the auspices of the Christian Medical Fellowship. The team travelled to several locations in rural Kenya. Mark took us through a typical day, from rising before dawn for improvised showers in the African bush and travelling along rutted tracks to arriving at village locations brimming with patients, many of whom would have walked for hours for the consultation. He reflected on logistics and resources, and showed us memorable clinical photos including the foot deformities of late stage leprosy. More than anything, he conveyed his enthusiasm for the benefit, both to doctor and to patient, of even short medical visits to Africa
2.12.11
Christmas Ball, Inglewood Manor
A roaring log fire and mulled wine ensured that we quickly got into the festive spirit for our return to Inglewood once again! A great turnout of colleagues and guests enjoyed the excellent three course meal, followed by a seasonal welcome from David Morris our president, adorned in his innovative chain of office! Mac Duo treated us all to a wonderfully wide ranging selection of music which, as promised, allowed everyone to dance or chat (or both!) the rest of the evening away! A great night!
16.11.11
"An Elective in One"
Nicola Blucher, Glyn Estanez, Emma Horrell, Emma Houston, Debbie Hunt, Richard Jones, Harriet Nerva, Laura To.
David Morris
The idea for this innovative evening for the society came from Mess President, Deb Dass and required medical students or training grade doctors to present their stimulating elective experience in just one slide and in just four minutes, with two minutes for questions! What a fascinating evening we had with high class reports from UK and around the world! Eight individuals were shortlisted and the winner was medical student Debbie Hunt for her captivating and professional presentation of her experience assessing the use of the dermatoscope in plastic surgery. Well done Debbie!
5.10.11
"30 years of patients, computers and change"
Dr Tom Davies, GP and Executive Member of the National Vision User Group
Henk Stiggelbout
For this first academic meeting, the president welcomed an old colleague with a passionate interest in bringing the benefits of IT to patient care. Tom Davies graduated from Liverpool and described his good fortune in joining an innovative general practice in rural Lincolnshire. He related the evolution of high quality patient care facilitated by computer support. Although his thirty years at the coalface as a GP along with his involvement with the UK wide Vision software group had clearly been demanding, he emphasised how fortunate he felt that he had been to have had a job that he enjoyed so much! Finally he pondered on the uncertainties facing the current generation of young doctors.
30.09.11
Golf Day Carden Park
Organiser – Dr Neil Blacklock
We only managed 10 members and 5 guests on a lovely afternoon. Jim McCormack excelled himself by winning the Medical Society Golf Cup with a magnificent 38 points, way ahead of any other competitor! The guest prize went to David Hughes with 28 points. Gareth Evans-Jones showed his accuracy by winning the nearest-the-pin competition and Jim McCormack won the Longest drive. We hope to attract more members in June 2012 to the Vale of Llangollen Golf Club.
14.09.11
Presidential Evening "From then to here"
Dr David Morris, General Pracitioner, Flintshire
Virginia Clough
Once again a highlight of the society year with many new and old colleagues, including several past presidents, meeting up for the first event. Retiring President Virginia Clough expressed the pleasure that she had had in her year of office and thanked the many people who had supported her before introducing our new President David Morris and handing over the chain of office. David delivered a fascinating and witty address describing his family and personal background before explaining how he was influenced by many of his teachers at medical school in Cambridge along with other professional colleagues as his career developed. He promised an interesting programme of meetings for his year of office. The evening concluded with an excellent dinner with appropriate liquid refreshment
18.05.11
President's Prize Evening
Drs Salma Ballal, Rob Cooper, Kate Doukova, John Evans-Jones, Layla Hanna-Bashara, Vikki Photiou, Gemma Mullen and Rose Penson
Virginia Clough
Following an excellent buffet meal, the impressive audience of 51members and guests was treated to a first class series of eight, well timed and rehearsed presentations from a final year student right up to an ST5 doctor. The four judges, Drs O'Mahoney, Hughes, Davies and Benton, had the unenviable task of picking out a winner. The President's Prize was finally awarded to Dr Gemma Mullen for her valuable presentation entitled "How well do we document epidural insertion? The birth of an epidural bundle!" However, all were congratulated on the quality of their contributions. Thanks to Pfizer for supporting the event.
16.03.11
Angel of Death – the story of smallpox
Prof Gareth Williams, Professor of Medicine, University of Bristol.
Richard Worth
Gareth Williams was welcomed back to Merseyside, where he had been Professor of Diabetic Medicine in Liverpool. As always he gave a captivating and entertaining talk, this time on the ravages of smallpox across the world over the centuries. He highlighted the crucial contribution of Jenner who recognised and developed the key importance of vaccination, a technique which eventually enabled the eradication of this fearsome disease worldwide. Chester's contribution by John Haygarth, an 18th century physician, was acknowledged as he pioneered the introduction of isolation and the earlier technique of variolation. Gareth's book supply, royalties to the Jenner museum, was sold out on the evening, a testament to his excellent presentation!
26.01.11
Three jumbos crash in a single day – latest!
Mr John Williams, Retired Consultant Obstetrician and Gynaecologist, COCH
Colm O'Mahoney
Fifty eight members and guests were treated to a fascinating presentation from John who described his relaxation in retirement flying around the world with Voluntary Services Overseas! Indeed, he was scheduled to fly out to Bangladesh just hours following his talk! He highlighted the alarming statistic of 1500 women dying every day in childbirth – hence the three jumbos. While in Cambodia he assured us that, despite sensory stimuli suggesting otherwise, fermented fish tasted gorgeous! Transport depended heavily on rivers and bikes. It was sad to note how improvement in obstetric services was not always facilitated by those in charge locally. John was fortunately on hand following our meal to provide answers to the quiz regarding the items of medical memorabilia discovered recently in a cupboard! Many thanks to Pfizer for sponsorship of the evening.
3.12.10
Christmas Ball Inglewood Manor
Mr George Foster, Consultant Surgeon, COCH.
Virginia Clough
Around 100 members and guests enjoyed a wonderful Christmas Ball at this new venue for the society. The unexpected early snowfall with bitter cold outside contrasted with the warmth of the event inside, where we were served an excellent meal accompanied by appropriate liquid refreshment! Virginia introduced her two special guests – Linda de Cossart, who was congratulated once again for all her local and national work culminating in her award of CBE earlier in the year, and George Foster, who reflected on the local NHS in Chester since his own appointment in 1983, emphasising the need for primary and secondary care to continue to work closely together, whatever political hurdles are placed in the way, thus confirming the fundamental value of this society in facilitating such a relationship.
18.11.10
"Cancer in 2030"
Mr Ciaran Devane Chief Executive Macmillan Cancer Support
Graham Leng, Medical Director, Hospice of the Good Shepherd
The society was very privileged to welcome Ciaran Devane to speak to around 35 members of the society along with guests from our local Hospice of the Good Shepherd. Earlier in the day Ciaran had cut the sod for the exciting new £250,000 Macmillan Support and Information Centre to be built on the Countess site and followed this with a conducted tour of our hospice in Backford. In his talk in the evening he described the challenges of providing care and support to the 2 million people with cancer in the UK today – but also the impending far greater challenges for the charity of attending to the expected 4 million people with this problem by 2030.
28.10.10
Joint meeting with the Birkenhead Medical Society. "Developing wise doctors: the challenge for the medical profession in the 21st century"
Mrs Linda de Cossart, CBE, Consultant Surgeon (retired) and Director of Medical Education, COCH
Richard Parkinson Consultant Orthopaedic Surgeon BMS.
At the invitation of the Birkenhead Medical Society a group from CNWMS accompanied our President to their meeting at Thornton Hall Hotel. In her after dinner address Linda de Cossart described the evolution of her career after retirement from vascular surgery to her increasing involvement in medical education. She went on to explain the initiatives now largely in place in the faculty of education in Chester. A reciprocal invitation was extended by our President, Virginia Clough, to Dr Caroline Jones, President of the BMS, to join us at an academic evening in 2011.
13.10.10
"Great paintings: fake, forgeries and theft"
Dr Jim Murray, Consultant Haematologist, Selly Oak Hospitial, Birmingham
Janardhan Rao
Jim Murray's long standing fascination with art history enabled him to present an amazing catalogue of events across the world and across many years when experts have been duped and galleries relieved of priceless pictures, including the Mona Lisa from the Louvre in Paris. He described one particular ransom demanded by a disabled bus driver with a grudge against the art world which involved him climbing through a toilet window in the National Gallery to demand money for TV licences for the less well off! The 31 members and guests who attended were grateful to Bayer Schering Pharma for supporting the meeting.
1.10.10
Golf Day Carden Park
Organiser – Dr Neil Blacklock
Not to be outdone by the Ryder Cup teams, who were being washed out in South Wales, 21 society golfers battled with the rain at the start at Carden Park but finished in glorious sunshine. Neil Blacklock took the Society Golf Cup and the Millenium Trophy by a narrow margin from David Bowden with Mike Brereton and David Hughes respectively winning the 1st and 2nd Guest Prizes, Jim McCormack the Longest Drive and Gareth Evans-Jones Nearest the Pin Prizes. Any questions and / or suggestions for 2011 to Neil Blacklock at Park Medical Centre.
22.09.10
Presidential Evening "What a bloody mess!"
Dr Virginia Clough, Consultant Haematologist and Medical Director, COCH
Isabelle Hughes
A magnificent turnout, including numerous Past Presidents of the society, enjoyed a great evening. Retiring President, Isabelle Hughes, initiated proceedings by thanking a number of colleagues, in particular Robin Davies recently retired Academic Secretary, for supporting her year, before introducing the new President, Virginia Clough. Virginia began her address by highlighting the dramatic improvements in management of traumatic blood loss following the experiences in the war zones of Iraq and Afghanistan. She explained that the sustantial lowering of mortality had resulted in many more limbless soldiers rehabilitating who were, fortunately, greatly supported by the charity, Help for Heroes. Finally she referred to the impending challenges of a potential huge reorganisation of the NHS! An excellent dinner completed the evening.
23.6.10
Golf Day Frodsham Golf Club
Organiser – Dr Neil Blacklock
Glorious sunny weather ensured that the round of golf followed by a meal at the golf club was enjoyed by all. The McKay Golf Cup was narrowly won by Neil Blacklock. Other prizes were won by Barbara Craven (Nearest the pin), Neil McKinnon (Longest drive) with Jen Russell and David Morgan winning the Ist and 2nd Guest prizes, respectively. The turnout of only 13 probably had something to do with an ill fated England football match in S Africa on the same afternoon! Do note the date of 1st October for the next Golf Club day at Bromborough GC!
11.06.10
Summer Ball Mollington Grange Golf Club
Dr Isabelle Hughes, President
Once again a great event and in a new venue for the society. Although we were not able to make use of the terrace (mediocre English summer evening!) the facilities inside easily made up for this. A particular attraction was the reasonably priced wine, as well as good food! The "one man band" kept everybody happily active! And as always a wonderful opportunity for colleagues from primary care to chat to colleagues from secondary care, and vice versa! Andy Logan (social secretary) and Isabelle Hughes (president) were applauded for arranging this excellent event.
20.5.10
"The Welsh NHS – just across the border"
Dr David Gozzard, Consultant Haematologist and recent Medical Director, Betsi Cadwaladr University Health Board
Ian Daniels
David Gozzard gave an excellent and highly relevant presentation, given our location so close to the border, indicating the very different way that NHS Wales is addressing the "quality agenda". He also described the advantages of not working with the purchaser / provider split which seems to make for better and easier decision making. Sadly only 25 or so people benefited from the meeting, probably due in large measure to the long awaited, beautiful early summer evening!
13.5.10
President's Prize Evening
Drs. Antakia, Rao, Silvester, Parkinson, Evans-Jones & Popoola
Isabelle Hughes
Following a very tasty buffet (thanks to sponsors NovoNordisk), 30 people enjoyed six high quality presentations. The judges (Drs Clough, Somauroo and Minshall) were unable to split the presentation by Dr Ramez Antakia on interval breast cancer from one by Dr Alexander Silvester's paper on cataract surgery in warfarinised patients and they therefore shared first prize.
30.4.10
Medico-Legal dinner "Harold Shipman"
Mr John Hughes, Coroner for North East Wales
Isabelle Hughes
Rather more medics than lawyers at this event which was a slight disappointment, but perhaps understandable given the subject of the after dinner speech. This was a fascinating new perspective on Shipman provided by John Hughes who had clearly researched this criminal's life in considerable detail. It was disturbing to note that some of the lessons of this case have yet to be addressed.
22.4.10
"Film The Age of Stupid about climate break down"
Dr David Farrell, Retired GP Chester
Chris Newcombe
Dave Farrell delivered a predictably provocative talk based on the film The Age of Stupid, highlighting the looming enviromental disaster brought about by climate change. He was alarmed that only one member of the audience had seen the film. A lively discussion ensued in a meeting attended by over 40 people. A major innovation was the food, all locally sourced by David and his farming colleagues! Thanks to Phadia and Chiesi for sponsorship.
18.3.10
"Sudden cardiac death in athletes"
Dr John Somauroo, Consultant Cardiologist, COCH
Robert Stewart
25.2.10
"Forensic Pathology today. Examining the dead under scrutiny"
Dr Paul Johnson, Consultant Forensic Pathologist, Royal Liverpool University Hospital
Tony Shanahan
21.1.10
"The future management of obesity"
Dr John Wilding, Consultant Physician and Senior Lecturer, University Hospital, Aintree, Liverpool
Laura Millard
12.11.09
"Slave Hospitals in the American Civil War"
Dr Stephen Kenny, Lecturer in 19th and 20th century North American History, University of Liverpool
David Morris
29.10.09
"The Future of Sexual and Reproductive Health Care"
Dr Meera Kishen Consultant Sexual and Reproductive Health at Abacus Liverpool and recent President of the Faculty of Sexual and Reproductive Health
Suzanne Kirkwood
24.09.09
Presidential Address "The Family – from Terrorism to Chester via Primitive Man"
Dr. Isabelle Hughes, General practitioner, City Wall Medical Centre
Richard Worth
30.04.09
"Travels as a ships doctor on the British Antarctic survey"
Prof John Croall Consultant Microbiologist, COCH
Steve Scott
27 03 09
MedicoLegal Dinner Rowton Hall Hotel
Judge Stephen Clarke
Richard Worth
05.03.09
"Alcohol – Our Favourite Drug"
Prof Ian Gilmore, MD, PRCP, President of the Royal College of Physicians, London, Consultant Gastroenterologist, Royal Liverpool Hospital, Honorary Professor of Medicine, University of Liverpool
Virginia Clough
11.11.08
"David Livingstone and Africa – medicine and mythology"
Professor Geoff Gill, Professor of International Medicine, University of Liverpool and Liverpool School of Tropical Medicine & Consultant physician, Aintree Hospital, Liverpool
David Ewins
24.09.08
Presidential Address "Musings….."
Dr Richard Worth, Consultant Physician, COCH
Elizabeth McClure
15.04.08
"Masterpieces, Muscle and Movement-a clinical anatomist view of the anatomy in the history of Classical Art"
Prof Peter Abrahams, Joint meeting with the Cambridge Society
Sid Birchett
30.01.08
"The Geography of Health"
Dr Janette Lloyd
Marjorie Robinson
31.10.07
"WW1 Medical Casualities"
Dr Geoffrey Noon
Alan Robinson